Click on pictures to view larger image.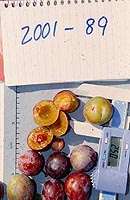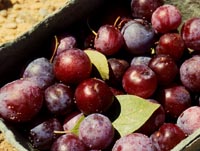 Smaller and more astringent than other plums, beach plums' unique flavor makes them desirable to process into preserves.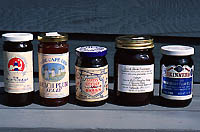 Several brands of beach plum jelly are available in coastal areas.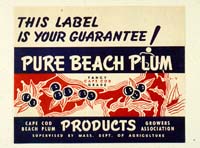 Promotional poster circa 1951.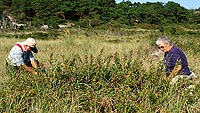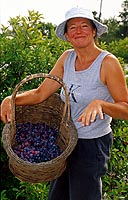 These traditional products are currently being made by a cottage industries almost exclusively from wild collected fruit. Beach plum is commonly collected from the wild in Westport, Mass. (left), and on Long Island, N.Y. (right), as well as in New Jersey.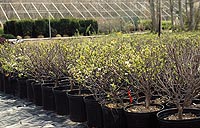 Beach plum plants are available from nurseries (Sylvan Nursery, Dartmouth, Mass., above) and are used in landscaping and sand dune stabilization.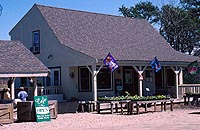 An experimental fruit production orchard was established at Coonamessett Farm, East Falmouth, Mass., a collaborative project lead by Cape Cod Cooperative Extension.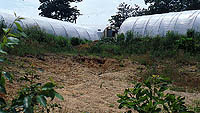 The orchard at Coonamessett Farm was planted in a sandy borrow-pit unsuited to other crops. Above image shows pre-plant conditions in the summer of 1996.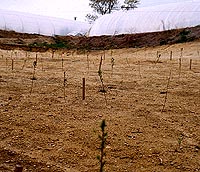 This is the same site at Coonamessett Farm soon after planting in 1997.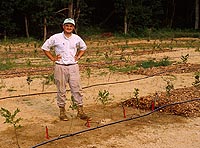 Rick Uva, project manager, at the experimental orchard at Coonamessett Farm in 1997. Note the pattern of moist soil from the drip irrigation.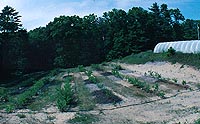 Experimental treatments of mulch, fertilizer, and irrigation at Coonamessett Farm in 1997.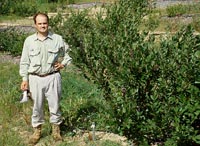 Rick Uva at the Coonamessett orchard in the summer of 1999. Note the size of beach plums planted in the fertilized treatment after two years in the orchard.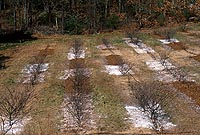 Spring lime application in 2001.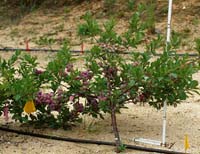 August fruit yield in 2001.