Home page
Photo gallery menu
Field day summary, handouts.

Click on pictures to view larger image.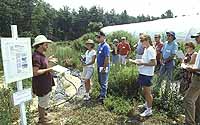 Dave Simser, Cape Cod Cooperative Extension, discusses brown rot and plum curculio -- the two biggest pest challenges for growers -- while attendees view the experimental beach plum planting at Coonamessett Farm.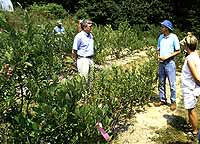 William Clark, Cape Cod Cooperative Extension, discusses the project with Steve Spear, a Conservation Planner with the Natural Resource Conservation Service, and Sonia Schloemann, UMass Extension.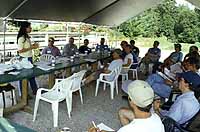 Wen-fei Uva, Applied Economics and Management, Cornell University, reports on the consumer focus group study.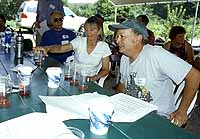 Ron Smolowitz, Coonamessett Farm (right), samples beach plum wines developed by Steve Richard, Hector, N.Y., and the Cape Cod Winery. Mr. and Mrs. Pozynsz, cranberry farmers, Scituate, Mass., also enjoyed the selections.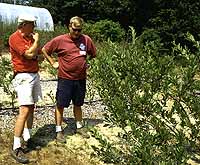 Tom Whitlow, Project Leader, Cornell University (left), discusses production options with Brad Morse, Double M Farm, Rochester, Mass.



Jeff Leflur, Executive Director, Cape Cod Cranberry Growers' Association (left), Doug Gillespie, Commissioner, Massachusetts Department of Food and Agriculture (center), and Martin Berny, Crosby Orchards, East Taunton, Mass., attended the field day.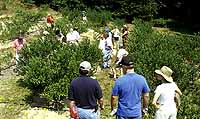 Participants view the dramatic differences in growth and yield between treatments in the experimental planting established in 1997 at the Coonamessett Farm.